Date added: 02 September 2008
Pro-boxing back in Swindon
9-bout card scheduled for the Oasis
Professional boxing is all set to be staged in Swindon once again.
After a gap of 15 years - when boxing was last on the bill in 1993 - a 9 bout card is scheduled to take place next month at the Oasis.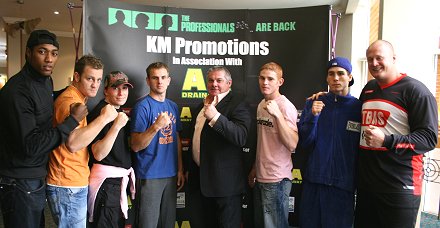 Big fight planned for Swindon:
(l-r): Marlon Reid, Liam Stinchcombe, Khristine Shergold, Adam Cummings, Keith Mayo, Chris Higgs, Jamie Cox and Ben Harding
An event that will see Swindon fighter Jamie Cox topping the bill, supported by new professional Marlon Reid and ABA finalist Ben Harding amongst others.
Behing the bill is Keith Mayo, who has just acquired his promoters licence from the British Boxing Board of Control.
"I'm really excited, and what Keith has done to bring it (boxing) back in to Swindon is a great achievment", said Marlon Reid during the launch at The De Vere Hotel.
Set to be a knock out event on the 17th October, tickets are now available from the Oasis Leisure Centre.
Tickets prices are £30, £40 and £75 for ring-side and free tickets & transport to the after show party.
Tickets can be purchased by contacting the Oasis Centre Swindon on 01793 445401.
George Groves in Swindon
World Title Contender packs a punch at The Sun in aid of Sebastian Murtough - PHOTOS + SWTV INTERVIEW

01 March 2014

Ready To Rumble!
Cox & Royer come face-to-face ahead of this weekend's big Oasis clash...

14 June 2013

Cox Comeback
Swindon boxer ready for ring return at Oasis on 15 JUNE - SWTV INTERVIEW + PRESS CONFERENCE

12 April 2013

Ant & Dec-ked!
TV stars and former world-champs enjoy white collar boxing at MECA - SEE GALLERY

03 May 2012

Bam Bam v The Menace
Swindon grudge fight tops the bill at white collar boxing at MECA - WIN VIP TICKETS

Festive Knockout!
Boxing day comes early at MECA Swindon - REPORT & GALLERY...

17 December 2011

Title Fight Tops Bill
Wiltshire boxer Nick Blackwell defends his English middleweight belt at M.E.C.A - 05 MARCH...

17 January 2011

Semi Pro Fight Night
Sean Mulvihill crowned Heavyweight champion of the Neilson Promotions fight night...

13 September 2010

Go on, give it some!
White collar fight night at Liquid & Envy in Swindon - SEE GALLERY...

07 April 2010

Knock-out success
White Collar Boxing evening raises money for charity...

19 October 2009

Fancy some?
We grab a word with boxing legend Nigel Benn in Swindon on fights - and faith.... watch interview...

Ready to rumble
We interview Jamie Cox and Marlon Reid before tomorrow's fight at the Oasis...

Packing a punch
Legendary heavyweights reunite at Swindon sporting dinner...