Date added: 08 September 2008
Half-Marathon Week One: In the pool
SwindonWeb girls go aqua-jogging!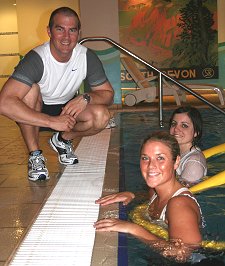 You've got to be kidding!:
SwindonWeb girls
aqua jogging
When one of Swindon's top personal trainers offered to help us prepare for the 2008 Swindon Half-Marathon, we were expecting all the hard work to be done for us.
But when we met Jason Scott of JLS Pro-Fit, we soon realised we were in for a tough ride.
With only five weeks to go, Jason was determined to get our muscles going in our first training session - and despite the rain, we still managed to don our running gear and get moving.
But this wasn't any old run - Jason was sending us aqua-jogging!
It sounded like a bit of a joke at first - splashing around fully-dressed in a pool - how hard can it be?
We soon found out just how hard it was!
After lengths of running with dumb bells, floating on a water woggle, under-water stretching, and generally being pushed to our limits - we were done.
SwindonWeb's Liz and Mel are pushed to their limits in the pool
The result? Tired muscles!
But our work-out was an exciting break from running on the road - and we'd recommend it to anyone!
Click back next week when we'll be testing our leg muscles with a bike ride around the Swindon Half-Marathon route...