Date added: 11 September 2008
Ironic words from Byrne
England have a new football hero - and Town let him go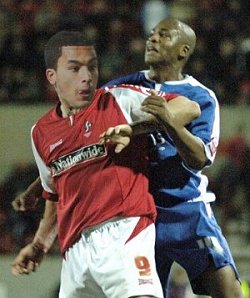 Theo
Walcott could have looked
He's the youngest player ever to score a hat-trick for England.
A star now being described
after his stunning performance last night in Croatia as probably "the best teenage footballer in the world".
And - as many of you will depressingly already know - Swindon Town sold him for £2,000!
Theo Walcott, who scored three superb goals in England's 4-1 win, was a member of Swindon Town's Centre of Excellence as a 10-year-old, and stayed on for 18 months.
But after catching the eye of Southampton FC in a trial game, Walcott was despatched for the princely price of a second-hand Ford Fiesta - and then sold on to Arsenal four years later for £12.6 million.
A missed opportunity at the County Ground if ever there was one - and a headline story made even more ironic given the comments of Swindon assistant boss Dave Byrne this week, who criticised previous management at the club for failing to hang on to its best potential players.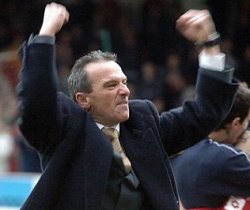 Swindon assistant manager
"I think we've let a lot of young players go too early,"
Byrne, who joined the club in 2006, said on Monday.
"And that's cost us dear in terms of team building.
"In my opinion, building a good youth section is crucial for the future of this club. And if some of the young players we have today realise their potential, we could have a very bright future."
Just a pity they weren't thinking that way eight years ago.
Walcott, Theo
The teenage football star that got away from Swindon Town...