Date added: 16 September 2008
Half-Marathon Week Two: on yer' bike!
We tackle the 13-mile route on two wheels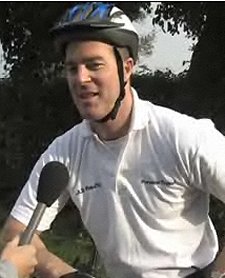 Personal trainer Jason Scott
After finding ourselves running fully-clothed in a swimming pool last week, I had to admit we were slightly dubious about this week's training session with Jason Scott.
When the SwindonWeb girls
arrived kitted out in our best running gear, desperate to test out our trainers on the course - we were met by a smiling personal trainer with a trick up his sleeve.
True to his word, he was taking us around the half-marathon route.
On bikes!
Jason soon realised that convincing us to hop on two wheels was going to take a marathon effort in itself.
He explained: "It's going to be a lot different on the bikes. There's a lot of extra pushing! It's going to be tough, but it will help build up your leg muscles.
"It would be quite nice for you to actually see the route, which is ideal on the bikes - and it will also give you a bit of an idea of the kind of gradients you'll meet on the day."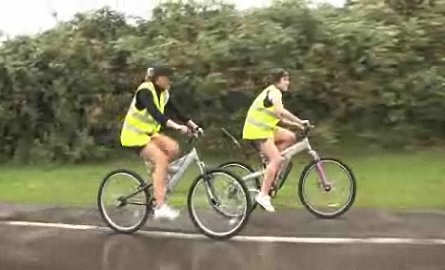 The SwindonWeb girls try out cycling
As we got going, I came round to Jason's way of thinking.
And although it was a constant reminder of why we had chosen to run 13 miles rather than cycle it, I think the variation was good.
And Jason's final advice this week?

"Next time you go running, try and change the pace - perhaps with some interval running. Run, walk and sprint - but try and look out for the hills, and try some tough hills to challenge yourself."
Click back next week to see what Jason has in store for us!