Date added: 18 September 2008
Clamp down on fly-tippers
56 vehicle checks and two arrests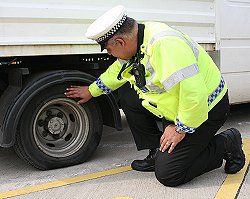 One vehicle gets checked to see
if it's road-worthy
An investigation in to fly-tipping carried out by Swindon Borough Council and Wiltshire police saw 56 vehicles checked across the town yesterday.
Fly-tipping in the borough costs the tax-payer between £105,000 and £115,000 a year - and a joint exercise saw police and council staff check vehicle documentation for the legal disposal of business waste as well as the correct transportation of livestock.
The initiative resulted in three vehicles being seized - one uninsured, one un-roadworthy, and one transporting overweight soil from a site believed to be contaminated - with three further investigations
pending that will look at businesses responsible for waste collection.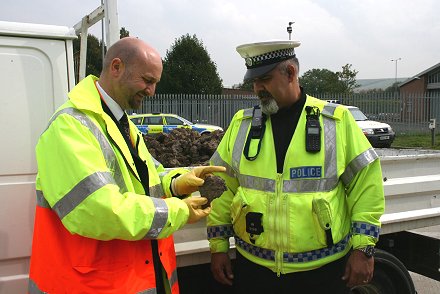 Richard Palacio and PC Russ Printer stop a vehicle believed to be transporting overweight soil
Richard Palacio, Environmental Improvement manager at Swindon Borough Council, told us: "We are looking at vehicles which may be being used to transport commercial or industrial trade waste.
"Fly-tipping causes detriment to the environment, and Swindon Borough Council residents are paying for its landfill costs.
"We are trying to increase the awareness in trade and businesses, of the importance of having the documentation for the correct disposal of waste."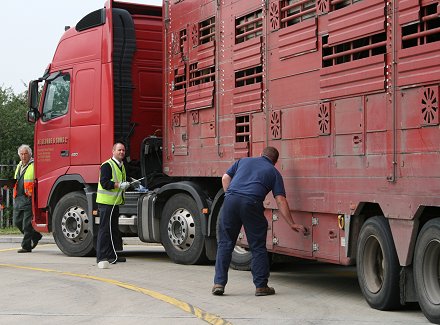 Police check that vehicles with livestock are
transporting them correctly
Traders found guilty of transporting waste illegally could face a £300 fixed penalty fine - with re-offenders paying up to £5,000 and potentially a 6-month custodial sentence.

PC Russ Printer, the officer in charge of the Commercial Vehicle Unit, organised the check in conjunction with Swindon Borough Council.
"It's not just a case of checking vehicles for their condition and documentation," he told us.
"The main aim is to look at the potential criminal use of those vehicles, and trying to get some of those vehicles and some of those criminals off the streets."