Date added: 11 September 2008
Award-winning students
Swindon College celebrate the achievements of their students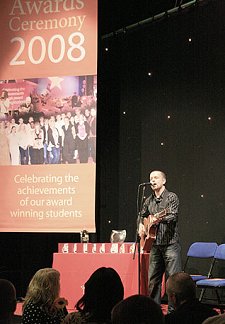 Swindon College award their
students for hard work
It was celebrations all round for over thirty students at Swindon College tonight.
An evening dedicated to honour the hard work and qualifications that have been achieved by the students with an opportunity to see the great diversity of courses the college provides.


"It's so nice to have your work appreciated," said Kelly Willis, who received the overall achievement award through her effort in her Media and Makeup course at the college.


"Through my course I have acheived the qualifications to study at London College of Fashion which has always been my dream."



Swindon College Award Ceremony 2008 - 12/09/2008