Date added: 24 September 2008
Hole-in-one for 7-year-old!
Wrag Barn cadet celebrates his best shot ever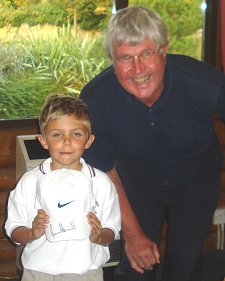 What an achievement!:


Kyle with Barry Sandry
History was made at the Broome Manor Tiny Tiger v Wrag Barn Cadet golf match this Saturday, with 7-year-old Wrag Barn Cadet Kyle Campbell shooting a hole in one.
Kyle scored the first ever hole-in-one on the Broome Manor short course, and the first by a Wrag Barn Cadet.
And as a momento of his achievement, he received a golf cap signed by Broome Manor's David Howell.
It looks like Swindon could have a future star!
David Howell Interview
SWTV speaks to the Swindon golf star ahead of this week's Ryder Cup - WATCH VIDEO

21 September 2012

What a shot!!!
Gong-ho David Howell enjoys the luck of the Irish in golf challenge - WATCH VIDEO...

16 August 2010