Date added: 24 September 2008
Half-Marathon Week Three: Running
Running the end of the course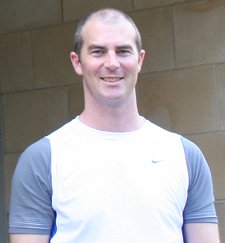 Putting us through our paces:
Jason Scott, of JLS Pro-Fit
It's been a tough few weeks for the SwindonWeb girls - but it looks like our sessions with personal trainer Jason Scott have started to pay off.
And this week we were ready to take to the road!
Starting at Liddington, we ran
through Wanborough and
Badbury, then back round to where we started - averaging a 9-minute mile, which we were pretty happy with.
But despite running 10 miles of the route on Saturday with relative ease, we were disappointed to find this week's 7-mile session pretty tough.
After dropping out after 4 miles with a groin strain, I soon realised that running downhill could be as tough on your body as running uphill.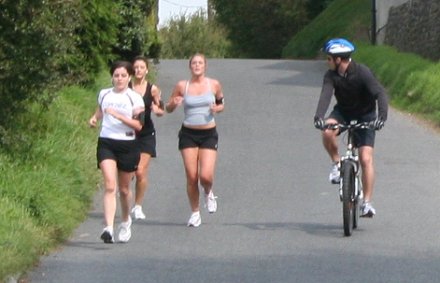 Jason talks us through the run
Jason was quick to point out that when running downhill you should take longer strides and relax your body more - I'll remember that next time!
We got back to our starting point and stretched our muscles for 15 seconds each, but it looks like a sports massage might be the next step.
Back in the office and reflecting on the session, we just had to remember to keep motivated and look forward to our next run.