Date added: 29 September 2008
Half-Marathon Week Four: an uphill struggle
Jason tests our fitness with tackling the hills
It's been a rollercoaster of ups and downs for the SwindonWeb girls whilst training for the Swindon Half-Marathon - and as we approach our penultimate training session with Jason Scott we discover for this week he has decided to take this phrase quite literally.

With this weeks training taking the expression an 'uphill struggle' to a whole new level.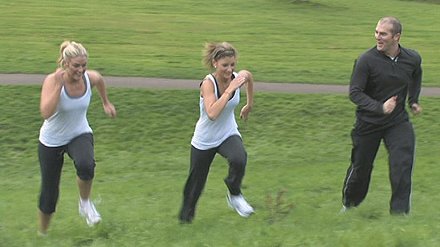 Jason puts us through our paces as we attempt hill training
After running 3 and-a-half miles – which was just our warm up - we were faced with the challenge of running up several hills – both forwards and backwards!
"There are quite a few hills on the course," commented Jason, "and its crucial we get your body as well as your muscles ready for this."
"It's a great way to get your body used to recovering as well," he added, "there are certain points on the route that you will find you have to get yourself up a steep hill only to discover there is another one straight after - so this type of training will build up your stamina as well as teaching your body how to recover."
So with less than two weeks to go – the countdown has begun to the Swindon Half-Marathon.