Date added: 04 August 2008
Mountain of food
Swindon Foodbank collect in earnest at Asda Walmart
Having plenty of food in the cupboards is something we can take all for granted.
But for a growing number of crisis-hit families and individuals in Swindon the harsh reality of the credit crunch means many don't even know where the next meal is coming from.
Hence the reason local charity Swindon Foodbank have been collecting in earnest this week, as demand for their services reaches record levels.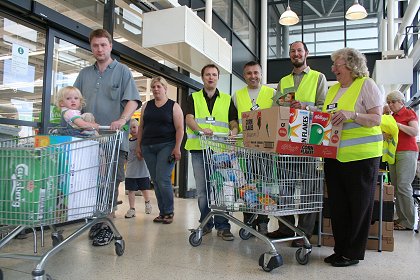 Foodbank volunteers collecting at Asda Walmart this weekend
The charity, which was set up two years ago, supply emergency food for those in need of help to make ends meet. Vouchers for which are handed out by care professionals such as doctors and social services.
"We've really noticed a difference in the number of people asking us for help," said founder Bob Hayward.
"Demand is up 50% compared to six months ago, so we're providing a really essential service at the moment. And why donations from shoppers is crucial."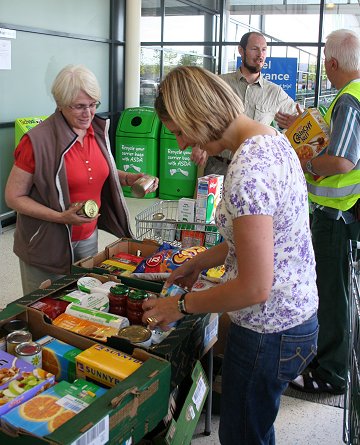 volunteers preparing food boxes ready for distribution
It was estimated that nearly 2 tonnes of food was gifted by kind shoppers at Asda Wamart this weekend, all of which has now been transported to the Foodbank warehouse in West Swindon for distribution.
Full details on the service provided by the Foodbank, including information on who can qualify, and where to donate food, are available via the link below.