Date added: 12 August 2008
Beijing Bronze for Swindon Rower
Story update: Saturday 16 August 2008 10.29am
Brave Bronze for Robotham
Swindon rower Stephen Rowbotham has just missed out on Olympic glory this morning.

In the final of the Men's Double Sculls in Beijing, Rowbotham and his partner Matt Wells had to settle for third place and a bronze medal after a tough race with eventual winners Australia.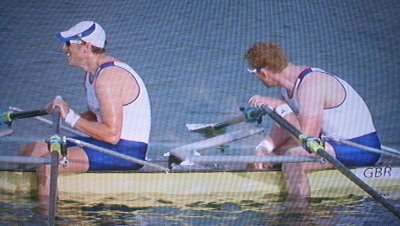 an exhausted Robotham (l) and Wells after finishing third
in the Men's Double Sculls in Beijing
Fast finishing favourites Estonia took silver, just a fraction of a second ahead of the GB pair.

"I'm disappointed but very proud all the same," Rowbothom told the BBC after stepping out of his boat.

"We came here to win, but I'll never pass up an Olympic medal. We gave it our all."
Story update: Wednesday 13 August 2008 09.50am
Swindon rower makes Olympic final
Swindon-born Stephen Rowbotham and men's double sculls partner Matt Wells will appear in the final of the Olympic rowing in Beijing, after achieving third position in the semi-final this morning.


Pipping them to the post was France in first place, and Estonia - the favourites to win - close second.


Rowbotham will now be preparing for the biggest row of his career so far, when he and Wills take to the water for the final on Saturday at 5.40pm Beijing time - 10.40am our time.


Despite their semi-final result placing them in the outside lane, Britain's rowing hero Sir Steve Redgrave told the BBC: "It doesn't really make that much of a difference."


Olympic final beckons for Rowbotham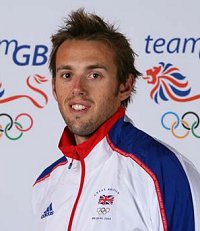 Swindon could be about to play a major part in the Beijing Olympics - and with a name like 'Row'-botham where else could it be than on the water.
Swindon-born oarsman Stephen Rowbotham alongside partner Matt Wells won the first heat in the men's double sculls rowing on Saturday, and tomorrow (Wednesday) compete for a place in the Olympic final.
The British pair earning their weekend win the hard way, after coming from behind to beat the well-fancied Estonian duo, who they face again in the semis.
"Pulling through from behind like that has made me really confident," said Rowbotham.
The semi-final is due to take place at 4.40pm Beijing time - 9.40am our time.
Steve, who now lives in Chiswick where he trains, won the first GB Olympic Class sculling medal for more than 20 years with Matt Wells in the double at the 2006 Eton World Championships.

In the 2007 World Cup Series, Steve won silver and gold in the double with Matt Wells and went on to finish 4th at the World Championships in Munich.
In the 2008 World Cup Series, they raced in the double at the first and second regattas winning gold and silver.