Date added: 16 August 2008
Swindon-led choir out of BBC Show
Bath Male Voice Choir lose out in 'Clash of the Choirs'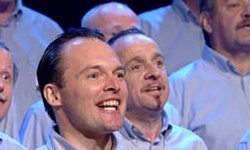 They sang their hearts out - but it wasn't quite enough.
The Swindon-led Bath Male Voice Choir [BMVC] were knocked out of the BBC hit show 'Last Choir Standing' tonight after an elimination sing-off with London ensemble Revelation.
BMVC were first to sing on the prime-time programme with 'Can't Take My Eyes Off You', and followed up with 'Wonderful Word'.
But after after a TV vote and a decision by the judges, it was decided that they were out after surviving six episodes of the series.
"It's been a truly fantastic experience," said Grenville Jones, the choral director, who was born and grew up in Swindon, "but we just fell short."
Grenville, who put an ad in the Bath Chronicle advertising that he was starting a Male Voice Choir for men aged 16-65, added:
"People told me that starting a male voice choir in this day and age would never work. But what we've achieved has proved a lot of them wrong."
Now just four choirs remain in the show and will perform in the semi-final next week on BBC One at 6:30pm.