Date added: 18 August 2008
Water at the ready!
Get involved with the Nationwide Swindon Half-Marathon
With less than eight weeks to go, runners across the town are really stepping up the pace in the run-up to the Nationwide Swindon Half-Marathon.
But the hundreds of entrants, who will be donning their trainers on Sunday 12 October, couldn't do it without the support of local volunteers.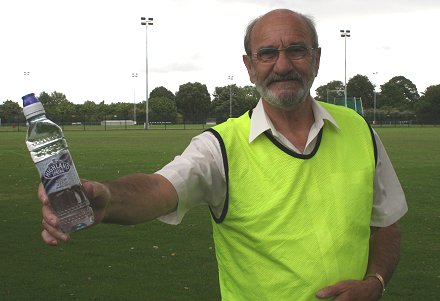 Derek Benfield handing out water to runners
at the Nationwide Swindon Half-Marathon
Former Swindon mayor Derek Benfield has been a marshal for five years, and is urging others to get involved.
"I couldn't participate in the marathon, so I thought I could volunteer," he told us.
"It's absolutely brilliant, it's exhilerating. You really feel like you've achieved something, and you've helped make the Swindon Half Marathon the success it's always going to be, and always has been."
With 60 volunteers already signed up, organisers are looking for another 120 to help marshal on the day.
And Derek's message is to get involved.
"Don't think. Act! Come and do it. You'll be appreciated, and you will really appreciate what the Swindon Half Marathon is all about."
If you would like to sign up to marshal, or would like more information, please call the County Ground Lifestyle Centre on 01793 511033.
Alternatively, visit the official website via the link below.