Date added: 02 July 2008
Air Tattoo Bus Shuttle
Thamesdown offer Air Tattoo transport from £2.50 return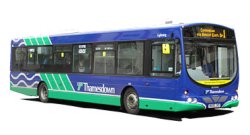 Thamesdown Transport put on
extended service for Air Tattoo
Thamesdown Transport will be running their usual shuttle service from Swindon to RAF Fairford for the Royal International Air Tattoo this July.
The designated route will take approximately 30 minutes, and should avoid traffic jams.
Buses will be leaving Swindon bus station from 7.30am, running every 20 minutes until 12.30pm.
The return service will leave RAF Fairford from 2.30pm, running every 20 minutes - the last bus will leave the Air Tattoo at 7pm.
Return fair costs £5 for adults and £2.50 for children (please note, national concessionary bus passes will not be valid).
Air Tattoo launch
RAF's finest fly in to launch the world's biggest airshow 2008...

03 June 2008