Date added: 03 July 2008
Moving forward? Or sad decay?
Victoria Hospital forgotten as NHS celebrates 60 years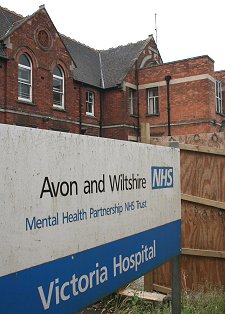 Victoria Hospital set to be demolished
The NHS is celebrating its 60th year on Saturday, as one of Swindon's first ever hospitals lies derelict.
Victoria hospital was Swindon's first general hospital and dates from 1887 - the year of Queen Victoria's golden jubilee, hence the name.
A building that played a proud part in a local Swindon health service that inspired the formation of the NHS in 1948 (see link below).

But despite being an essential part of Swindon life for over a century, it is currently in a shocking state - as these photographs show.
The Avon and Wiltshire Mental Health Partnership moved to the newly-built Victoria Centre at Great Western Hospital last December, before selling the old Victoria Hospital site two months later.
And SwindonWeb will be taking a look around the new centre in their latest 'NHS in Swindon' feature - click back soon for more information.
What do these pictures make you think?
Is the Victoria hospital just a sign of the times - that the NHS is modernising and moving forward?
Or is it sad indication of the slow decay of the NHS? Yet another provision closed due to lack of investment?
Post your comments below.
Victoria Hospital gallery

Victoria Hospital - 03/07/2008