Date added: 07 July 2008
Another Monday. Another Tribute.
Wootton Bassett stands silent once again
The people of Wootton Bassett paid another moving tribute to the latest casualties of the Afganistan conflict today.
Last week's tragic victims - number 109 and 110 - transported through the market town just after 1.45pm, where a crowd of over two hundred stopped to pay their respects.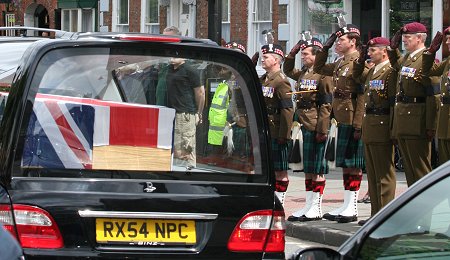 soldiers from the The Argyll and Sutherland Highlanders and The Royal Logistic Corps pay tribute to their fallen colleagues as the funeral courtege passed through Wootton Bassett today
Those saluting during a minute's silence included comrades of those who died, Lance Corporal James Johnson, 31, of B Company, 5th Battalion The Royal Regiment of Scotland, and Warrant Officer 2nd Class Dan Shirley of the Royal Logistic Corps.

Wootton Bassett tribute - 07/07/2008
Bravery Recognised
Proud evening as Swindon soldiers are awarded Operational Service Medals for Afganistan Tour - WATCH VIDEO

12 March 2014

Radnor Street Remembrance
Swindon honours its war graves at much-neglected cemetry - GALLERY + PICS FROM OTHER REMEMBRANCE DAY CEREMONIES

11 November 2012

Strictly Poppies
Come Dancing stars perform at the opening of Remembrance Field at Lydiard Park - GALLERY

09 November 2012

Another sad day
Wootton Bassett pays tribute to latest Afgan casualties...

01 December 2008

Their Proudest day
Armed Forces say 'Thank You' to the people of Wootton Bassett...

12 October 2008