Date added: 09 July 2008
Local charities net £1,500
Video and picture gallery from the Swindon Cares six-a-side
It was brewers versus bankers and joiners versus journalists at the Swindon Cares six-a-side tournament last night.
A fourteen team event that again raised £1,500 for this year's chosen charities.
The fundraiser, held at the Supermarine Football Club, won for the second time by the Moonrakers pub.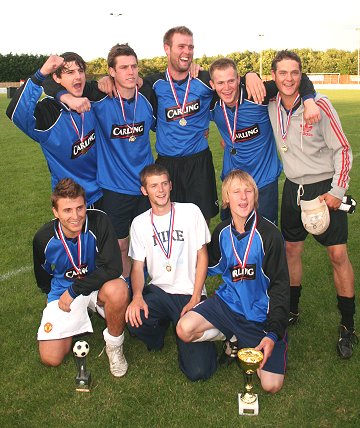 The defending champions beating late entry Boy Better Known in the final - after coming through a tough battle with yours truly - SwindonWeb - in the quarters.
Other teams taking part this year included: SwindonWeb, Arkell's Brewery, HSBC Commercial, Edmont, Arval Fleet, Arval Fuel, RSM Bentley Jennison, Layton Blackham, Withy King, the Swiss Chalet, the Wheatsheaf and Cartus.
As in 2007, the Swindon Cares charity week is supporting projects for The Swindon Samaritans, The Broad Green Breakfast Club and the Swindon Therapy Centre for Multiple Sclerosis.
A company quiz night at the De Vere Hotel on Monday night attracted over 38 teams, and a golf day today at Wrag Barn is all helping to raise this year's target amount of £20,000.
Full details on the Swindon Cares charity can be found via the link below.

Swindon Cares 6-a-side Football - 09/07/2008
Joy of six
Gallery from the Elite Football 6-a-side held at the Liddington...

13 June 2009