Date added: 10 July 2008
The direct approach
Conservative leader answers questions in Swindon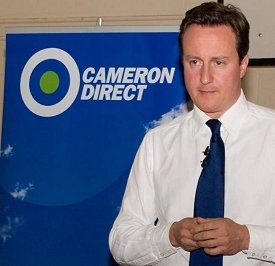 David Cameron was in Swindon last night and promised to stop the introduction of ID cards if he became Prime Minister - and revealed that a pint of bitter was his favourite tipple.
Just two of the answers the Conservative leader gave at Greendown School during a one-hour 'ask me anything' session in front of two hundred members of the public.
A new initiative by the Witney MP called 'Cameron Direct'.
An event introduced by SwindonWeb.com and broadcast live on the Internet (see link below).
Cameron Direct in Swindon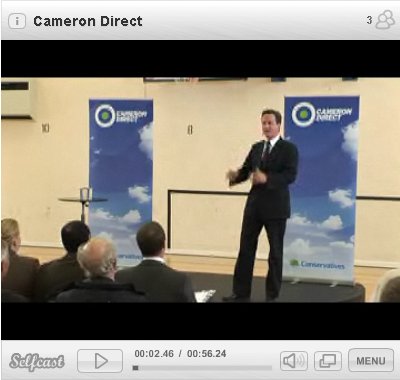 click on the image above to watch video of
Cameron Direct in Swindon
(please ignore intro - very embarrassing!)
"Swindon is a hugely important town, and a microcosm of the country at large," Cameron told us before taking the stage.
"I want to know what the people of Swindon have to say, and if I'm going to ask them to vote for me, I think it's only right that I give them the opportunity to meet me and ask me questions on the issues that affect them."
Question Time with David Cameron
Come and ask the Tory leader anything you like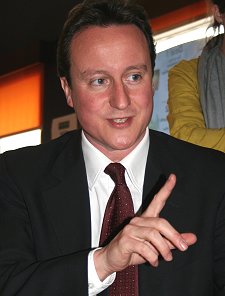 Ask me anything!:
Cameron in town for consultation
Last time Conservative leader David Cameron came to Swindon, he was heckled by a passer-by after touring our new central library.
But tomorrow he'll be hoping to avoid any such hecklers as he makes a public appearance at Greendown School.
Taking place from 6.30-7.30pm, SwindonWeb's editor Phil Poulton (as an impartial member of the media) is all set to lead the discussions.
Cameron is in town as part of 'Cameron Direct' - an initiative which will take him to towns all across the country, giving the general public the chance to ask him just about anything.
With a maximum of 200 places, you need to hurry!
Swindon Election 2015
Both Conservative MPs re-elected with increased majorities + ELECTION NIGHT LIVE

08 May 2015

Election Q&A
The Royal Oak Bishopstone hosts a Q&A with the party political candidates - 17 APRIL

Cheeky!
Opportune advertising raises a laugh at Bruce Street Bridges...

05 May 2010

Election Time 2010
Final day - still unsure? Take a final look at our guide to see videos, history and more...

Cameron in Swindon
Conservative leader chooses Coate pub garden to launch 'grey manifesto'...

18 April 2010

Andrew Lansley
Conservative shadow secretary of state for health visits Maple Court in Swindon...

14 April 2010

Theresa Villiers
Shadow secretary of state for transport visits MAN in Swindon...

07 April 2010