Date added: 13 July 2008
What's this Melinda?!
Swindon star makes return to the page that made her famous
Readers of the Sun this weekend would be forgiven in thinking they'd picked up a copy from 1997.
For there on page 3 - in all her glory - was another stunning picture of Swindon star Melinda Messenger.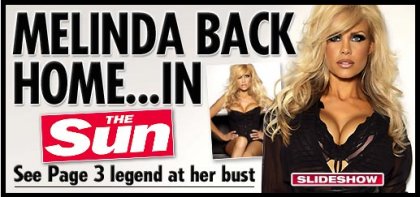 Melinda Messenger - back on page 3
Our golden girl back in the paper that made her famous in 1997, when she was plucked from obscurity to be proclaimed as the "The Page Three Girl for the Thrillenium", and then onto a successful career in TV.
And eleven years on, you have to hand it to her - she's still got what it takes to sell newspapers. Even though she wasn't quite baring all.
Mum-of-three Melinda, who recently split from her hubby Wayne, is currently a host on the BBC's To Buy or Not to Buy - and rumoured to be the next face of lingerie giant Ultimo.
So expect to see equally racy pics of Mel coming to a billboard near you.