Date added: 16 July 2008
Strikers make their voice heard
Services disrupted as Council workers walk out
A pay rise offer of 2.45% is not enough say Council workers out on strike in Swindon today.
A disruption that has already caused some schools to close, Swindon's main libraries to shut their doors and other services, such as wheelie bin collections, to be seriously affected.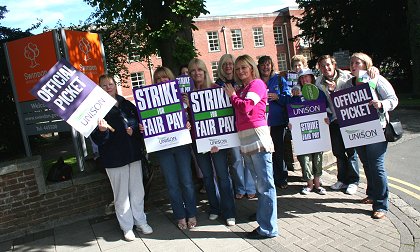 Council workers at the Civic Offices today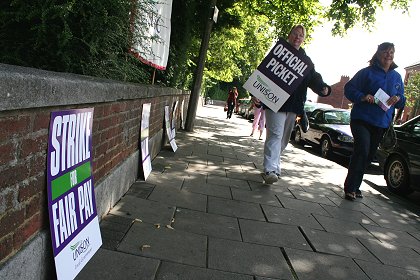 Unison and Unite, the two unions who represent those on strike, have been demanding a 6% increase in pay from the Government. But they insist they cannot afford it.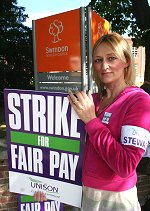 Ann-Marie Black, who works in the Swindon Borough Council Home Care Dept., is one of those who made an appearance on the picket line at the Civic Offices in Euclid Street.
"We deliver an essential service in Swindon and some of our lowest paid workers are earning £6.68 an hour. People who make themselves available to work everyday including Christmas day.
"No bonus. No enhancements. No extra for weekend work. And we've had enough.
"The Government have offered an increase of 18p on that. It's not enough given the rise in the cost of living.
"Some of our workers just can't afford to keep doing the job, which involves caring for people in their homes. People who rely on us. Really essential care like bathing and being there in an emergency."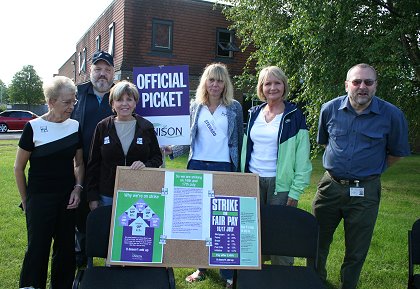 support workers at Stratton-St-Margaret fire station
(engines were transferred to the main fire station
on the Magic Roundabout so the service could be maintained)
A spokesperson for Swindon Borough Council said: "This is a national, not a local, issue.
"We apologise to residents for any inconvenience caused by the strike action. Our website www.swindon.gov.uk has full details of any services which have been affected."
The two-day strike is due to continue tomorrow [Thursday].