Date added: 17 July 2008
Pedal power!
Rupert Young and Bear Grylls get in the MOOD for charity
What do you get when you cross a £20 pedalo, a map, and some celebs thrown in for good measure?
Well, this morning we went to The Trout at Lechlade to meet Rupert Young (pop star Will's brother) - who is hoping to turn all of the above in to £50,000 for charity.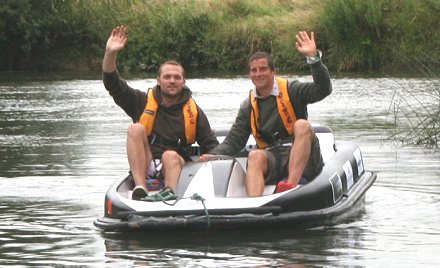 Rupert Young and Bear Grylls set off
Rupert, who founded the Mood Foundation, set off along The Thames in a pedalo - embarking on a 140-mile trip to London.
"Through the Mood Foundation, I want to help pay for people affected by depressive conditions to receive the right treatment," he told us.
"I've raised £35,000 already, so I'm really hoping to achieve £50,000."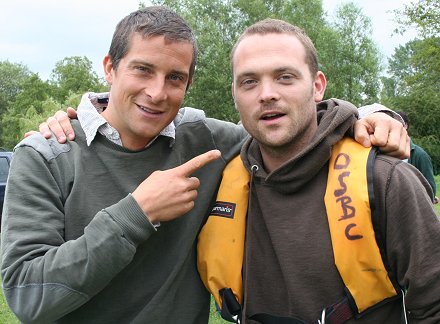 Bear Grylls and Rupert Young head for London
And who better to join him on his expedition than Channel 4's Born Survivor, Bear Grylls - who just happens to be an old friend of Rupert's.
"Bear has been great. He'll be coming along to help me start the trip, and I'm sure he'll be advising me on things like what to eat!"
"My brother Will is doing the London stretch, with Sebastian Faulks who is also a patron of the society, singer Rachel Stevens, Amanda Lamb, and a couple of surprises."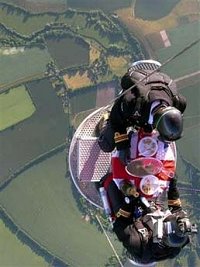 In 2005, Faringdon-based Grylls set the record for the world's highest formal dinner party alongside Swindon explorer David Hempleman-Adams [DHA].
Grylls, with Alan Veal, dined on asparagus, salmon and duck a l'orange while suspended 40 feet below a balloon at 24,262 feet, piloted by DHA. All three donned in dinner jackets.
Grylls and Veal parachuting down to earth after finishing a terrine of summer fruits for dessert.

Rupert Young's MOOD Pedalo Trip - 17/07/2008
Arise, Sir David!
Swindon's record-breaking explorer Knighted in the New Year's Honours list.....

31 December 2016