Date added: 21 July 2008
Top Gear Throne of Gratitude
Clarkson honour for Swindon anti-speed camera councillor
According to BBC Top Gear, Great Britain has a new motoring hero.
And it's Swindon councillor Peter Greenhlagh!
The SBC lead member for transport the unlikely star of BBC's motoring programme last night, as Jeremy Clarkson and co gave him a standing ovation for his recent comments on abolishing speed cameras.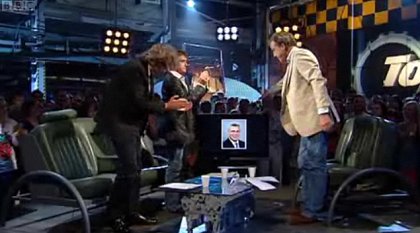 Top Gear's Jeremy Clarkson, James May and
Richard Hammond applauding Swindon Councillor
Peter Greenhlagh's stand against speed cameras
The show going as far to award Greenhlagh the 'Top Gear Trophy of Excellence' for 'Services to Common Sense in the face of blatant Government stupidity', after he described the cameras as a 'blatant tax on the motorist.'
Clarkson even going as far as to unveil the new Top Gear 'Throne of Gratitude' as further thanks, before inviting the Councillor to visit the show anytime to take his rightful seat.
An honour indeed.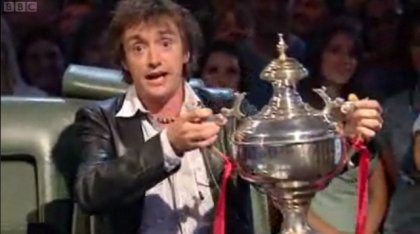 the Top Gear Trophy for
'Services to Common Sense
in the face of blatant Government stupidity'
and the 'Throne of Gratitude' (below)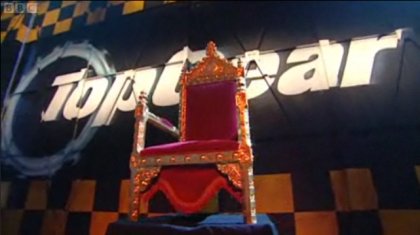 When SwindonWeb called Mr Greenhlagh this morning to gauge his reaction to his appearance on the show, he described it as "mildly embarassing" , "but pleased that the debate on speed cameras had become such a popular topic".
"It's a serious issue that deserves proper discussion," he told us.
He wasn't sure, however, whether he would take up the Top Gear offer of a visit to the studio to pick up his trophy.
"I'm flattered that they consider me a hero," he added, "which is quite bizarre really.
"But if the producer does invite me then I suppose I'll go. I do tend to watch the programme every week."
The Top Gear episode featuring Councillor Greenhlagh is available to watch for the next seven days on BBC iPlayer, link below.
It's The Eboladome!
And it's in Swindon! New Grand Tour test track gets the Clarkson treatment...

21 November 2016

Caught On Camera
How some Swindon drivers are avoiding the Victoria Road closure - WATCH VIDEO

12 September 2012

Swindon Speed Watch
Blunsdon residents warn motorists - "If you persist, we'll get you!"

22 February 2012

Flash point
War of words as Council prepare to pull out of camera safety partnership... UPDATE: SPEED CAMERAS USE ENDED

The Stig
Swindon's connection to Top Gear's mystery man - watch YOU TUBE clip...