Date added: 24 July 2008
Croft Community Cycle Trail
Nationwide employees dig deep for new bike route
A new mountain bike trail has opened in Swindon, thanks to the hard work of volunteers from Nationwide Building Society.
The Croft Community Cycle Trail (in Croft Woods, opposite Nationwide HQ on Pipers Way) is a 1km route owned by Swindon Borough Council, and financed by a National Lottery grant.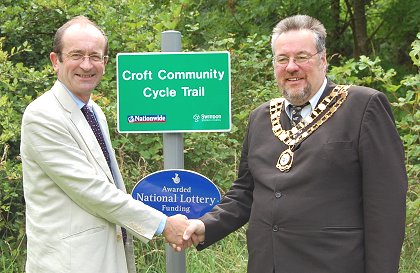 Cllr Brian Mattock, Cabinet Member for Local Environment
and Sustainability with Mayor Steve Wakefield
But it was the dedication of one Nationwide employee that really saw the project take hold.
Steve Smith, a technical services analyst, set about designing the course after a public consultation - and went on to build it with the help of colleagues.
"I started cutting back the nettles with my wife and soon rallied round volunteers from Nationwide, which has a popular cycling club," said Steve.
"It has been a labour of love."
There are further plans to extend the trail, which could see it span 5km in to the woods, with more facilities for experienced riders.