Date added: 29 July 2008
New York, San Francisco - Swindon?!
US giant Google arrives in town
The world's biggest search engine has taken 'Big Brother' to a whole new level, with their newest brainchild 'Google Street View' bringing controversy to the UK.
And today, much to the surprise of local residents, they arrived in Swindon.
Strange looking cars with huge cameras on the roof have been parading around the town all day, taking 360 degree images of buildings and homes to feature on Google Maps.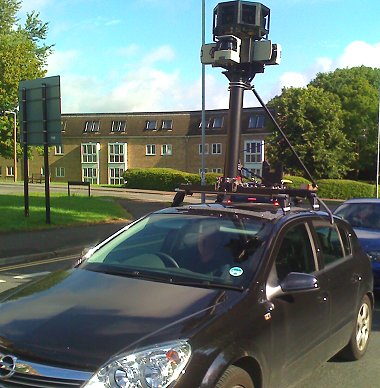 Swindon could soon be featuring on Google Streep Maps
The idea is that they will eventually collate images of the whole world, so that a Google Map user can physically see the view as if walking down the street.
But it hasn't been plain sailing for the US internet giants.
After taking to the streets of New York, San Francisco, and other major cities in America, the Google initiative has been met with questions over invasion of privacy.
They've also been accused of jeapordising security with the filming of residential areas.
And now they've selected major cities in England to feature on the site.
So watch out - you could soon be out there for the whole world to see!
We've been Googled!
For all to see: street views of Swindon in the digital age...

12 March 2010

Big Brother
For the last time, then. Swindon's connection to the daddy of exploitation TV...