Date added: 29 July 2008
Sell wins at Clevedon
Swindon golfer Martin Sell wins play-off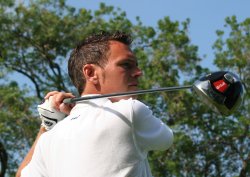 Martin Sell wins at Clevedon
Swindon golfer Martin Sell proved he's back in full swing as he took the win at Clevedon today.
Two excellent rounds of 69
(-3) allowed the Wrag Barn-attached Pro to earn his place in a play-off with Daniel Perrett, who he beat on the first extra hole with a solid par.
"It's great to get back to winning ways," Martin told us, "I've been making a lot of changes to my swing recently in preparation for Tour School, and I finally feel that everything is coming together."
Picking up a cheque for £1,500 has helped lift the 29-year-old to 3rd in the Jamega Tour Order of Merit.