Date added: 30 July 2008
Widow fulfills husband's dream
£2,500 for Gambian school
When Highworth resident Colin Jones passed away suddenly in April this year, his wife was determined to do something in his memory.

Before he tragically died, Colin had donated £1,000 to the 'Friends of the Marsden Nursery School' campaign, which aims to fund the building of a school in The Gambia.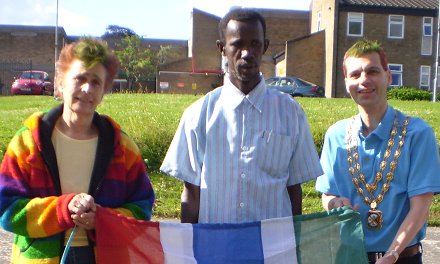 (l-r) Jane Jones, Lamin Jammeh, Principal of Marsden Nursery School Gambia, Highworth Mayor Steve Weisinger
And now Jane Jones has been working hard to raise money in any way she can.
Last month, Jane and Highworth Mayor Steve Weisinger died their hair, raising £600 alone for the fund.
Through dozens of fundraising initiatives, Jane has now raised a massive £2,500 - the amount necessary to build a brand new school.
But she's not stopping there.
"The fundraising is endless. I could put the money in now to build the school but the more I raise, the better the facilities will be.
"So I will be continuing my efforts for a while yet!"