Date added: 31 July 2008
Millions witness heart transplant
Swindon man's operation on Channel 5 - watch here!
As most of us sat in front of the telly last night, it was probably for a bit of mind-numbing entertainment while we scoffed our dinner.
But for one Swindon man it was a very different story.
As Ron Carter flicked over to Channel Five at 9pm last night, he witnessed something pretty eery - his own heart transplant.
The 59-year-old from Haydon Wick watched the operation, featured in the 'Lifesavers' documentary, with his wife Jenny.
It was a fascinating watch with Ron's surgeons using a revolutionary method, connecting the donor heart to a machine which keeps it pumping - rather than the traditional method of storing it in ice - to better preserve it on the journey from Northern Ireland.
"It was strange to see it all, an unreal experience really," Ron told us.
"Papworth hospital was magic - a different class to anything I've seen or experienced before, and they were such a good set of people."
Three months to the day since the life-saving procedure, Ron feels like a new man.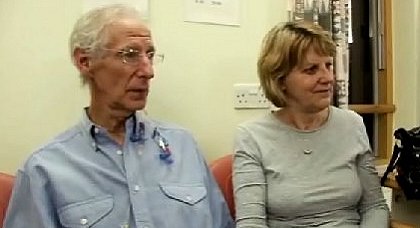 Ron Carter and wife Jenny wait eagerly
for news
of his heart transplant

"It's just amazing! You can't believe when you've been ill for so long that you'd ever get back to full health. My body aches a lot when I walk, but I'm able to do a lot of things that I haven't done in a long time."
For Ron there is one more thing he wants to achieve.
"I want to send an anonymous letter to the family of the donor.
"All I know is that it was a 45-year-old man from Belfast. I've written the letter 3 or 4 times already, but it's difficult because I don't want to upset them.
"I want to tell them how much this has changed my life."