Date added: 31 July 2008
Calling all book worms!
Get your favourite books in the new central library
Swindon Borough Council are so excited about the new central library
that they're asking local residents which books they'd like to see on the shelves.
With more than 17,000 books making their way to the new £10 million award-winning building when it opens on 20 October, there should be
something for every budding book worm.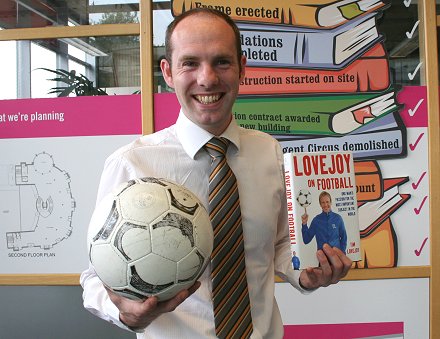 Cllr Justin Tomlinson knows exactly which book
he'd like to see in the new central library
And today, Councillor Justin Tomlinson made his choice very clear.
"It has to be 'Lovejoy On Football: One Man's Passion for the Most Important Subject in the World' by Tim Lovejoy," he told us.
"I'm a big football fan so just anything which relates to the beautiful game gets my approval."
If there's one book in particular that you really want to see on the shelves, the council are urging you to get in touch!
Postcards for you to add your comments are available at Swindon's 15 libraries, leisure centres and community centres, or you can make your request online via the link below.