Date added: 03 June 2008
It's happened again!
Swindon Floods - The Aftermath
Yesterday's downpour has left hundreds of Swindon residents flooded again - and today we went out to meet some of those who have been most affected.
Haydon Wick is one of the worst hit areas, so we spoke to local resident Linda Brown, who lives on the High Street.
"This is the fourth time we've been flooded internally in two years," she told us.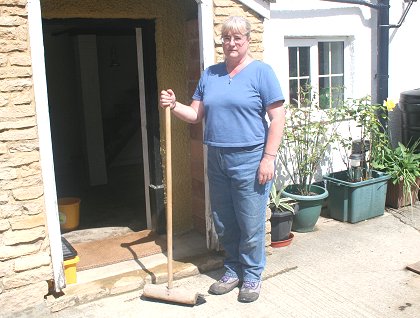 Haydon Wick resident Linda Brown says Swindon
Borough Council and Thames Water aren't doing enough
"There's obviously a big capacity problem. Yesterday we were pumping 200 litres of water a minute for 12 hours - and our sewar here is only 50 feet long. So where is the water coming from?"
And as we arrive at 37 High Street, we meet a familiar face in Haydon Wick.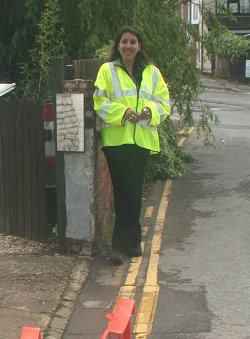 Thames Water Regional manager
Tracey Pierce visits residents
Tracey Pierce, Regional Network manager for Thames Water, is now on first name terms with many residents.
"Unfortunately it was very bad here yesterday with prolonged heavy rain fall," she told us.
"We had three fire engines and four large tankers trying to control the flows but we couldn't keep it out the houses.
"As a company we've been working very closely with the local council and residents to try to stop this from happening again."
Meanwhile, around the town roads are still closed - including the A420 Oxford Road just off the Toys 'R' Us roundabout, which was also flooded yesterday.
Pouring buckets - yesterday's story...

Another big summer deluge hits Swindon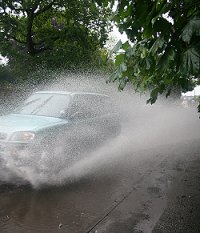 drivers are urged to
take care
Heavy rainfall today from early this morning has left some roads in Swindon in-passable.
The B4019 Highworth to Blunsdon road almost completely under water in three locations plus standing water has already been reported on the main A420 Swindon to Oxford road.
With forecasters unable to predict when the rain will end. Motorists are being advised to take extreme caution.
Of course, this is not the first time that the rain has caused problems across the town.
The great Swindon flood of July last year still fresh in the memory of those affected - some of whom living in Covingham and Haydon Wick having yet to return to their homes following the damage (see link below).
Roads closed or seriously affected so far:
A419 closed at the exit for Toys 'R' Us roundabout

A417 closed both ways between Lechlade and Burford at Canada Lane junction and A361 Burford Street junction

A4361 blocked between Wroughton and Broad Hinton
Flood watch between Mannington and Cricklade
Mel Turner-Wright

Swindon Floods - 03/06/2008

Swindon Floods - Aftermath - 04/06/2008
Water Taxi Required!
But it's too late for this cab driver (and passengers?), as floods on Queens Drive cause traffic chaos - PICTURES

07 February 2016

Mini Bow Wave!
It pays to be in a 4x4 at Bruce Street Bridges today...

29 July 2013

Wat'er Weekend!
Downpour spoils the bank holiday for some... but not others - see gallery...

26 May 2008

Deluge Swindon
The day the heaven's opened on Swindon - literally! - PICS & VIDEO...