Date added: 10 June 2008
Grape expectations!
Swindon's Riesling in the wine world
Bordeaux, Burgundy, Loire Valley - our guess is you've probably heard about (and sampled copious amounts of, if you're anything like us) - wines from some of the world's best regions.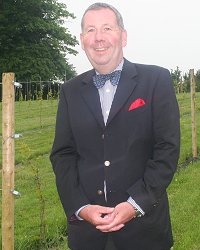 sights on the 2012 Olympics
And if Francis Young, owner of the Pear Tree in Purton, has anything to do with it you may well see Swindon placed on the cultural wine map too.
For Francis - a well-recognised wine connoisseur - has already planted the first vines which he hopes will produce grapes to rival the best producers in the world.
After planting the vines in 2006, Swindon's premier cru could be just one year away - with summer 2009 earmarked for the launch of the Pear Tree wine.
Weather permitting of course!
But Francis' ambition for the Purton wine, which is being produced on land at the back of the Pear Tree, doesn't stop there.
He's hoping the fruit of his labour will be ready and bottled in time for the London 2012 Olympics - so you could be toasting a gold for Britain with a glass of the good stuff from Purton.
Meanwhile we'll just have to rely on our neighbours from across the Channel to quench our thirst during the summer evenings.
Mel Turner-Wright