Date added: 13 June 2008
Panic at the pumps?
Not quite so far in Swindon. But fuel is already running low in places
FUEL CRISIS UPDATE: 18 June 08 07.45am
With news that the proposed second strike of tanker drivers has been called off, motorists can expect things will be back to normal at Swindon's petrol stations in the next 24 hours.
FUEL CRISIS UPDATE: 17 June 08 09.36am
Tesco in Ocotal Way - no diesel
Asda (West Swindon Shopping Centre) - no diesel
Esso on the A419 near Latton - no diesel
Esso on the A420 (near Sainsburys) - super-unleaded only
Shell in Highworth (Simpson's) - no diesel
Shell on Marlborough Road - closed
Shell in Wootton Bassett - closed
Esso in Wootton Bassett - closed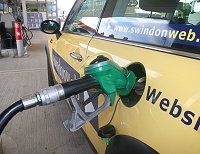 There's been a mixed reaction around Swindon to the so-called 'fuel crisis' about to hit Britain.
After it was announced last night that Shell tanker drivers were embarking on a four-day strike, it was feared that it would be panic stations on forecourts across the country.
But if Swindon is anything to go by - some people are panicking - and some people aren't.
And it all seems to depend on the price at the pumps.
At ASDA at West Swindon, whose prices are normally the lowest in town, supplies of diesel have already run-out - with reserves of petrol also going fast.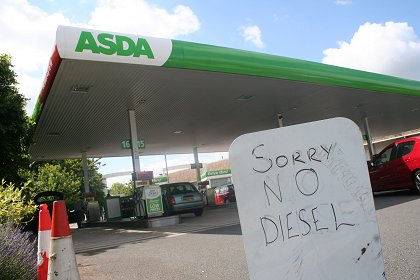 the Asda fuel station in West Swindon
Whereas at the Texaco garage on the Magic Roundabout - usually the most expensive in town - it's been a somewhat calmer affair, with only slightly more than expected business reported.
"It's been pretty quiet to be honest," a member of staff told us this morning, "and we've got enough petrol and diesel to last a week."
"But if everyone starts filling up, you can cut that to 3 days."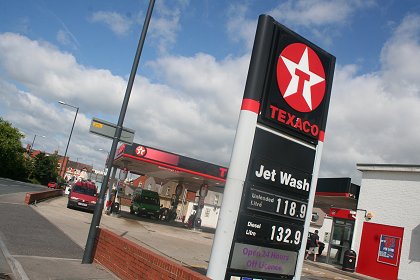 the Texaco garage on the Magic Roundabout
And that's exactly what motorists have already starting doing, judging by the picture below.
Cars queuing at the Shell garage in Marlborough Road perhaps giving an indication of things to come, as drivers topped up their tanks ahead of possible fuel shortages at the weekend and next week.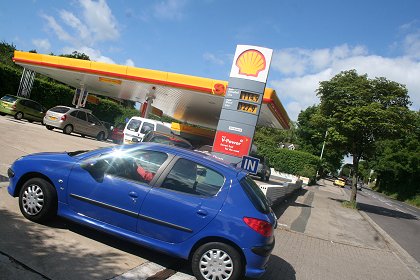 cars waiting at the Shell garage on Marlborough Road
Waiting To Fill Up
Swindon garages running out of fuel after rush at the pumps - SWTV

29 March 2012

Cheapest Fuel in Swindon?
Asda West Swindon & Orbital at 133.7p per litre - tell us on Twitter #swindonfuel + SWTV COMMENT FROM LOCAL MP

02 March 2012

Pump it!
We've found the cheapest petrol prices around...

30 July 2008