Date added: 16 June 2008
Swindon pays tribute to fallen soldiers
War heroes saluted on return from Afghanistan
The people of Swindon gathered today, to pay tribute to the latest casualties of the war in Afghanistan.
fellow soldiers and members of the public stand in sombre contemplation as the cortege stopped in Wootton Bassett
Over 300 people of all ages lined the streets of Wootton Bassett to witness the procession of five hearses as they carried the bodies of five paratroopers from the chapel at RAF Lyneham to the John Radcliffe hospital in Oxford.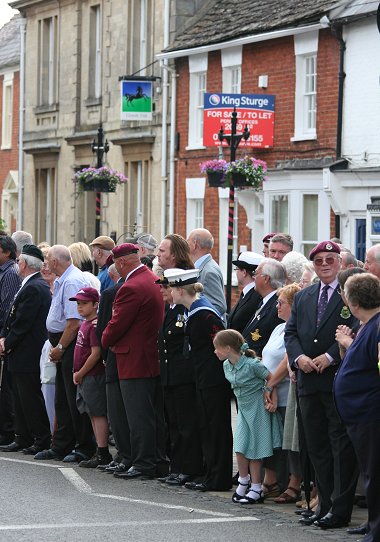 hundreds of people lined the
High Street in Wootton Bassett
With the Union Jack flag draped over every coffin, war veterans and local dignitaries saluted the war heroes, who were tragically killed in two attacks in Helmand Province last week.
The soldiers - all from the 2nd Battalion of the Parachute Regiment - Privates Nathan Cuthbertson and Charles Murray, both 19; Private Jeff Doherty, 20; Lance Corporal James Bateman, 29; and Private Daniel Gamble, 22 were the victims of Taliban suicide bombers while on routine patrols.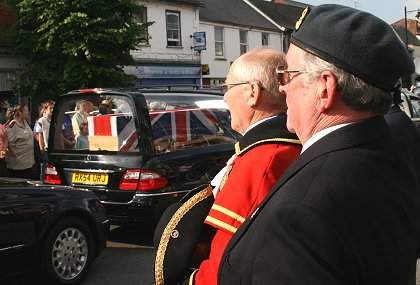 past war heroes pay their final respects
"It's another very very sad day," commented Wootton Bassett Mayor Mike Leighfield.

"We have had over 40 processions of this kind in the last year, and every one becomes more poignant."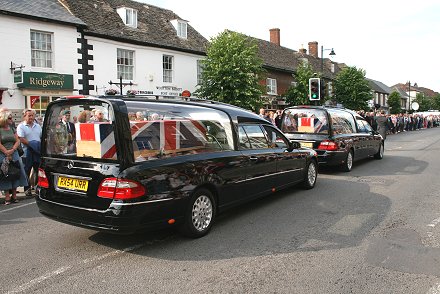 the coffins were carried to Oxford's John Radcliffe Hospital
The procession comes on the day Prime Minister Gordon Brown and US President George Bush announced more troops were being sent to Afganistan to combat a resurgent Taliban contingent.
A decision, one war veteran, who witnessed today's sad event, described as "totally ridiculous and ill thought-out".
Mel Turner-Wright

Soldier Tribute Wootton Bassett - 17/06/2008
The Christmas Truce
You've probably seen the advert - but Captain Mervyn Richardson from Purton was really there...

15 November 2014

Hello, Mr President!
Air Force One soars over Swindon as Obama flies in to RAF Fairford - SEE PICS

04 September 2014

Marking The Start Of WW1
100 YEAR ANNIVERSARY: Schoolchildren gather in Wharf Green before 28 June - the day that sparked the Great War...

26 June 2014

Bravery Recognised
Proud evening as Swindon soldiers are awarded Operational Service Medals for Afganistan Tour - WATCH VIDEO

12 March 2014

Bravery Recognised
Proud evening as Swindon soldiers are awarded Operational Service Medals for Afganistan Tour - WATCH VIDEO

12 March 2014

Field of Remembrance
Lydiard Park hosts the Royal British Legion's tribute to our brave Serviceman & women - 08-17 NOV

Radnor Street Remembrance
Swindon honours its war graves at much-neglected cemetry - GALLERY + PICS FROM OTHER REMEMBRANCE DAY CEREMONIES

11 November 2012

Radnor Street Remembrance
Swindon honours its war graves at much-neglected cemetry - GALLERY + PICS FROM OTHER REMEMBRANCE DAY CEREMONIES

11 November 2012

Strictly Poppies
Come Dancing stars perform at the opening of Remembrance Field at Lydiard Park - GALLERY

09 November 2012

Strictly Poppies
Come Dancing stars perform at the opening of Remembrance Field at Lydiard Park - GALLERY

09 November 2012

Another sad day
Wootton Bassett pays tribute to latest Afgan casualties...

01 December 2008

Their Proudest day
Armed Forces say 'Thank You' to the people of Wootton Bassett...

12 October 2008

Swindon and World War One
Lest We Forget 101 Years On: our 4-part chronicle of the role Swindon people played in the Great War #therebutnotthere