Date added: 20 June 2008
Around the world in...one exhibition?
Swindon College Media Make-up Show 2008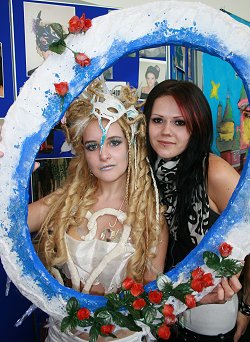 there were all kinds of weird
and wonderful styles on show
More than 40 students from Swindon College's media make-up BTEC showcased their work last week, in a grand exhibition.
But it wasn't a case of slapping on a bit of foundation - no, no.
From fairytales to France - there were loads of different ideas on show.
And one of the students took more than eight hours to transform her model!
Course tutor Ellie Baskerville, said: "Some of the models actually had frames to stand in, so that people were able to get really close up to the models.
"Their designs are really unusual and brilliant with some pretty quirky ones amongst them."

Swindon College Media Make-up show 2008 - 20/06/2008