Date added: 23 June 2008
Another sad homecoming
First female casualty amongst Afganistan soldiers paid tribute to today
It was a simple message but it summed up perfectly the thoughts of hundreds of people in Wootton Bassett today.
A tribute left to soldier Corporal Sarah Bryant, the first female casualty of the Afgan conflict, who died alongside three brave comrades last week.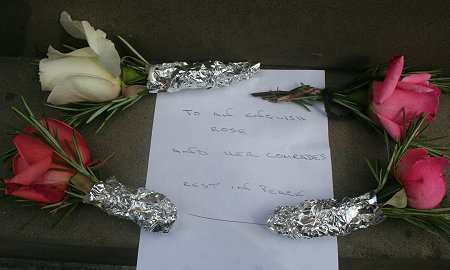 the tribute left on the Wootton Bassett centotaph in honour of Corporal Sarah Bryant, 26, and three Territorial Army special forces soldiers, Cpl Sean Reeve, 28; L/Cpl Richard Larkin, 39; and Paul Stout, 31, who died in Afganistan last week
The high street lined once again by hoardes of people paying their respects.
The second occasion in a week that fallen war heroes have received such a solemn homecoming, as they travelled through Swindon from RAF Lyneham to the John Radcliffe hospital in Oxford.
Wootton Bassett tribute gallery
Bravery Recognised
Proud evening as Swindon soldiers are awarded Operational Service Medals for Afganistan Tour - WATCH VIDEO

12 March 2014

Radnor Street Remembrance
Swindon honours its war graves at much-neglected cemetry - GALLERY + PICS FROM OTHER REMEMBRANCE DAY CEREMONIES

11 November 2012

Strictly Poppies
Come Dancing stars perform at the opening of Remembrance Field at Lydiard Park - GALLERY

09 November 2012

Another sad day
Wootton Bassett pays tribute to latest Afgan casualties...

01 December 2008

Their Proudest day
Armed Forces say 'Thank You' to the people of Wootton Bassett...

12 October 2008