Date added: 25 June 2008
Swindon floods: the damning report
SBC's former Chief Executive produces independent report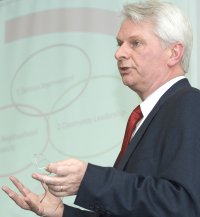 Almost 12 months on, and some residents in Swindon are still suffering from the flash floods of last summer.
And today, an independent report commissioned by the government is set to create a real storm.
The Pitt Review, compiled by Swindon Borough Council's former Chief Executive Michael Pitt, outlines the government's pitfalls which left 13 people dead and thousands of Britons homeless.
More than 48,000 homes and 7,000 businesses were flooded, and billions of pounds worth of damage caused last July - with a staggering 5,000 households still in disrepair.
The in-depth report highlights the Thames Valley, Midlands, North-East and Anglian regions as the worst hit.
last July's flash floods won't be
forgotten by residents still suffering
Areas of Swindon are still hard-hit by the floods, and many residents are frightened that poor flood defences currently in place will not prevent further flooding - a message which Michael Pitt was keen to highlight.
His report stated: "One year on, many people continue to suffer the long-term disruption that the summer floods of 2007 caused.
"The threat of flooding remains an ever-present danger to individuals and communities in the UK."
Download the full report
here
.
Water Taxi Required!
But it's too late for this cab driver (and passengers?), as floods on Queens Drive cause traffic chaos - PICTURES

07 February 2016

Mini Bow Wave!
It pays to be in a 4x4 at Bruce Street Bridges today...

29 July 2013

Flash back
Could we be having a repeat of last year's floods?...

02 July 2008

Deluge Swindon
The day the heaven's opened on Swindon - literally! - PICS & VIDEO...