Date added: 30 June 2008
How many more, Mr Brown?
Swindon remembers the war dead once again
The tragic fate of two paratroopers killed in Afghanistan was in evidence again today in Swindon, as a Police escorted procession of their coffins passed through Junction 16 of the M4.
The twelfth and thirteenth casualties of the war to travel through Swindon since 08 June alone (see links below).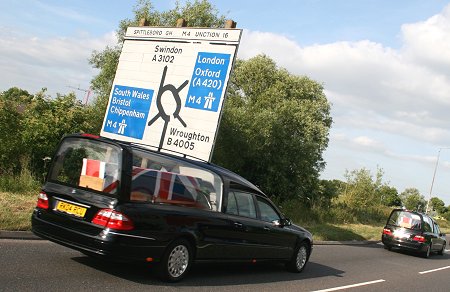 hearses containing the bodies of Private Joe Whittaker and Sergeant Major Michael Williams about to join the M4 at Junction 16 on their journey from RAF Lyneham to the
John Radcliffe hospital in Oxford
As in previous weeks, the courtege stopped in Wootton Bassett for a minute's silence where over three hundred people gathered to pay their respects.
Private Joe Whittaker, a Territorial Army reservist, and Sergeant Major Michael Williams, a WO2, were both killed in action last Tuesday.
Bravery Recognised
Proud evening as Swindon soldiers are awarded Operational Service Medals for Afganistan Tour - WATCH VIDEO

12 March 2014

Radnor Street Remembrance
Swindon honours its war graves at much-neglected cemetry - GALLERY + PICS FROM OTHER REMEMBRANCE DAY CEREMONIES

11 November 2012

Strictly Poppies
Come Dancing stars perform at the opening of Remembrance Field at Lydiard Park - GALLERY

09 November 2012

Another sad day
Wootton Bassett pays tribute to latest Afgan casualties...

01 December 2008

Their Proudest day
Armed Forces say 'Thank You' to the people of Wootton Bassett...

12 October 2008