Date added: 06 May 2008
Super-sized TV!
Swindon's Big Screen officially launched at Wharf Green
There might not have been any popcorn in sight, but the official switch on of Swindon's Big Screen was certainly a super-sized event.
Local residents and business people turned out to celebrate the launch, which was fronted by BBC Points West's Alex Lovell.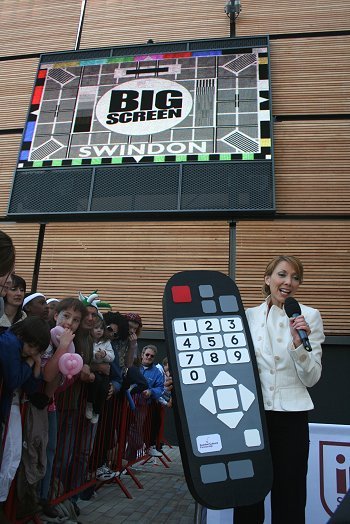 BBC Points West's Alex Lovell
performs the big switch-on
An evening which included a performance from Swindon Dance, clowns, face-painting, and a virtual penalty shoot-out competition with Swindon Town's Ady Williams, Blair Sturrock and Jamie Vincent.
The first of its kind in the south-west, the BBC Big Screen will bring local and national news and events to the town centre - with the opportunity for local filmmakers to have their own work broadcast.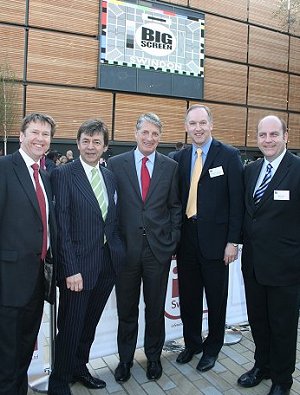 Big Screen, Big Business:
(l-r) Swindon Borough Council's Chief Exec
Gavin Jones, New Swindon Company's John
Cullum and Peter James, Council Leader Rod
Bluh, inSwindon Chief Executive Mark Ross
To get your work on the Big Screen and to find out more information, visit the Big Screen website via the link below.
Mel Turner-Wright

Big Screen Opening - 02/05/2008
Let it flow
New Canal Walk fountain is switched on for the first time...

19 May 2010