Date added: 06 May 2008
Turtle head at 26,000 feet!
Toilet problem for Swindon explorer told on prime-time TV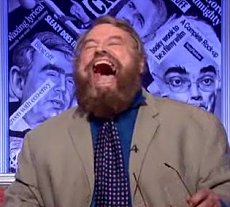 Brian Blessed talking turds
on Have I Got News For You
Viewers of BBC1's Have I Got News For You learnt a little more about Swindon explorer David Hempleman-Adams [DHA] than they bargained for this weekend.
Guest host Brian Blessed happy to recount a humourous tale of climbing the world's highest mountain alongside Hempleman-Adams in 1993 - and the problems DHA encountered going to the loo in the middle of the night at 26,000 ft - and -40 degrees centigrade!
Blessed almost in tears with laughter as he described how DHA had exclaimed at 2am in the morning and 4 miles up:
"I must have a sh*t!"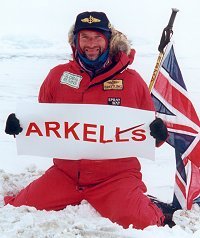 The dangerous conditions meaning that Swindon's grand slam hero had to be lowered from a rope by Blessed and his climbing colleagues so that he could deficate in sub-zero safety - with only a torch to guide them.
A process that DHA appeared to have completed without cause for concern or encountering the much-feared frost-bite.
That was until Blessed noticed a rather pungent smell eminating from Adams while the two were enjoying a cup of tea back at base camp.
"And there it was - a turd on Hempleman-Adams' shoulder!" exclaimed Blessed to regular Have I Got News For You panellists Paul Merton and Ian Hislop.
"He had a sh*t. And the wind had carried it up in the air and in a lull in the weather it had come down on his shoulder!"
"And that's the glamour of Everest!" he added laughing.
DHA - who famously once admitted using a page from Margaret Thatcher's autobiography as emergency loo paper - recovered from the incident and embarrassment to eventually reach the summit of Everest - the only time the Swindon explorer has reached the top of the world's highest mountain.
Blessed, unfortunately couldn't complete the climb due to altitude sickness.
Either that, or the smell, we think!
You can watch the epiosde of Have I Got News For You on BBC iplayer, via the link below. Available for the next 7 days.
The David Hempleman-Adams story appears at 33 mins 30 secs.
Arise, Sir David!
Swindon's record-breaking explorer Knighted in the New Year's Honours list.....

31 December 2016