Date added: 06 May 2008
Joy of six for Stanton Swans
Remember the swans our Milo visited last month at Stanton Park?
Well, there's now eight of them - or two swans and six cygnets to precise.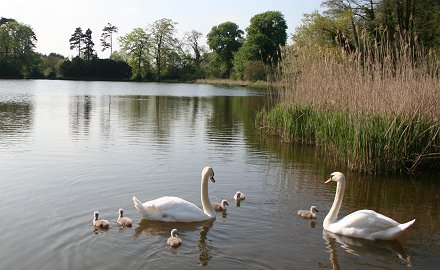 the Stanton Park swans and six cygnets
The proud male and female mutes became parents at the weekend after weeks of nesting and can now been seen gliding across the lake at Stanton Park as one big happy family.
SwindonWeb's Milo popping down today to say hello - without getting too close!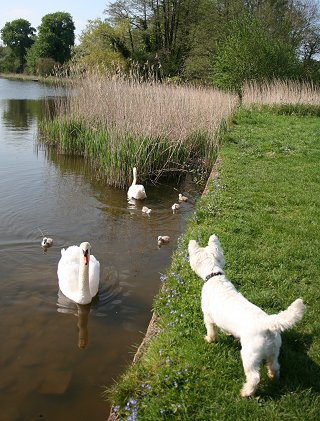 Although the male swan seemed slightly more laid back than last week, when he was on 24-hour guard ahead of the big hatch, he soon organised everyone to swim off when Milo came 'a sniffin'.
The cygnets and swans not the only ones enjoying a superb summer's day in Swindon, as our gallery shows.
A summer's day at Stanton Park
Frozen Over!
Cold snap means dancing on ice for Stanton swans...

03 January 2009

Asleep on the job?
Swindon nature: male swan takes a break from 24-hour guard - and gets a ticking off!..

27 April 2008

Stanton Park
Our boy Milo's off for a walk around Swindon's haven for wildlife...