Date added: 19 May 2008
You orchard see it!
Penhill residents transform estate in to organic haven
In an urban town like Swindon, you'd never expect to find an
organic haven in the middle of high-rises.
But in one area of Penhill, you'll find just that.
Fifty-five-year-old resident Marilyn Beale was fed up of hearing plans to turn fields behind her home in to yet more housing - and felt compelled to take some action.
And that she certainly did.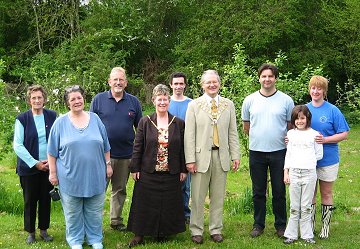 At the heart of Penhill's community:
Marilyn Beale (front left) and former Mayor
and Mayoress, with local volunteers
Campaigning for four years alongside fellow residents, Marilyn pleaded with Swindon Borough Council to give the area nature reserve status - and prevent the town centre spilling even further in to the estate.
And much to her surprise, she managed to drum up a whole team of people eager to help turn the area in to a thriving organic fruit orchard.
Opened in September 2003, residents are now reaping the benefits of more than 250 fruit-bearing trees.
So it just goes to show that good old community spirit is still running thick and fast through Swindon.
Volunteers meet every Saturday from 10am to maintain the orchard - if you would like to get involved, please contact Marilyn Beale on 01793 331516.
Mel Turner-Wright
Blooming good fun!
Swindon garden competition expected to dig up some real talent...

29 May 2008