Date added: 12 May 2008
Charity night pays off
£1,000 donated after Merson and Ruddock event
Swindon company KM Promotions brought footballing legends Paul Merson and Neil 'Razor' Ruddock to town last month - and now two Swindon charities are reaping the benefits.
£1,000 was raised during the evening, with £500 being donated to both Koalas and The Green Hut.
Koalas is a service which provides children with special needs the chance to develop in a safe, friendly environment, whilst offering parents invaluable support.
The Green Hut is a drop-in centre for homeless, unemployed, disadvantaged and elderly people from across the town - and offers a haven with cooked food, showers and laundry services available throughout the day from its home in Gorse Hill.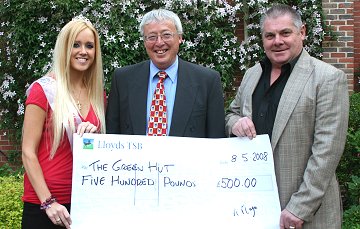 Miss Swindon and KM Promotions' Keith Mayo (right)
present Terry Williams from The Green Hut with £500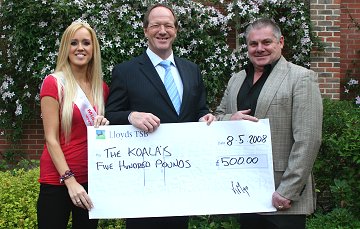 The pair present Koalas representative and manager
of the De Vere hotel, Andy Spink, with his cheque
And Keith Mayo, joined by Miss Swindon 2008, Becky Cole, presented the cheques to representatives from both charities this weekend.
canvas they are auctioning
The next KM Promotions event is being held this Wednesday, when boxing legend Larry Holmes will be coming to town.
And Miss Swindon will be helping to raise even more money this time, with a canvas she has painted of Holmes being put up for auction - with the boxer stepping up to sign it on the night.
A few tickets are still up for grabs, so if you'd like more information on the event - being held at the De Vere Hotel in West Swindon - call 07789890453.
Mel Turner-Wright
Title Fight Tops Bill
Wiltshire boxer Nick Blackwell defends his English middleweight belt at M.E.C.A - 05 MARCH...

17 January 2011

Semi Pro Fight Night
Sean Mulvihill crowned Heavyweight champion of the Neilson Promotions fight night...

13 September 2010

Go on, give it some!
White collar fight night at Liquid & Envy in Swindon - SEE GALLERY...

07 April 2010

Packing a punch
Legendary heavyweights reunite at Swindon sporting dinner...