Date added: 14 May 2008
A step towards the future
Students celebrate after completing Pre-16 Increased Flexibility programme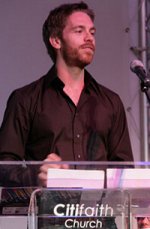 Guest speaker
Stuart Roslyn
It was a night of celebrations for over 300 Year 11 students at Citifaith Church on Monday night.
Fifty two students were presented with awards for successfully completing the Pre-16 Increased Flexibility programme which enables young students to study work-related subjects at college or with a training company while still at school.

"It was a very rewarding evening," said Nicola Gregson, Co-ordinator of the Swindon 14-19 Partnership.
"Tonight celebrated the achievements of a large number of young people in Swindon who have been following vocational courses delivered through the Partnership."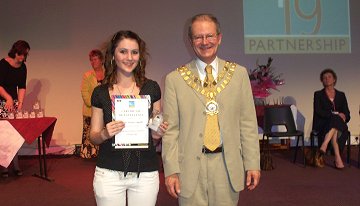 Rose-Anne Smith with Swindon Mayor Michael Barnes
receives the Young Apprentice in Hospitality Award (above)
Tanya Keye with Co-ordinator and guest speaker
Stuart Roslyn who received the
Student of the Year Prize
(below)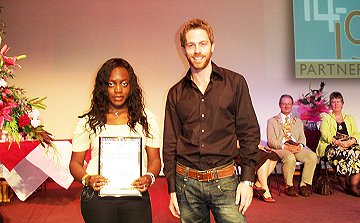 VIP guests included the Mayor and Mayoress of Swindon, Jan Downey from the LSC, Amanda Burnside Director of Communications, Swindon College, Graham Taylor Principal of New College, Nicola Gregson, the 14-19 Partnership Co-ordinator and guest speaker Stuart Roslyn - songwriter advisor for the Fame Academy.

The Swindon 14-19 Partnership has been running successfully for over ten years. Both colleges: Swindon College and New College, work with Key Training, NWT, Haddon Training, LSC and Swindon Borough Council to deliver the courses for year 10 & 11 students in Swindon and some Wiltshire schools.

Pre 16 Awards Ceremony - 12/05/2008