Date added: 19 May 2008
McCloud's back in town
One step closer to Swindon's eco-dream
Eco-friendly housing guru Kevin McCloud was back in Swindon on Friday, to show residents the latest plans for the Pickards Small Field site.
His construction company, Hab Housing, selected the plot for a development of around 200 homes.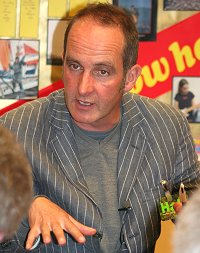 Kevin looks to the future
But public concern during his last visit in December were focused on flooding of the Hreod Burna brook.
And one local resident even suggested turning the brook in to a canal.
Sahra Gott, brand director of Kevin McCloud Ltd, said: "public support has been really strong, but there are questions over flooding and security.
"So they are obviously our main criteria, which we will be working on over the coming weeks."
Kevin and Hab Housing will be back in Swindon in a few weeks for a walking consultation across the site.
the Pickards field site off Pinehurst road
Mel Turner-Wright
Grand Re-Design?
EXCLUSIVE TV: Kevin McCloud: "I'm not going to pull out now...." - updated