Date added: 22 May 2008
Just Bin It!
Nythe Primary kids take part in McDonalds clean-up campaign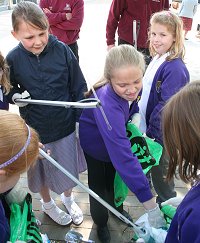 Gotta be in it to bin it!:
pupils show the importance
With the sun out it was the perfect time to encourage pupils from Nythe Primary School to give the town centre a spring clean.

Over 25 children took part in the initiative as part of the McDonalds national community clean-up campaign, 'Just Bin It', which encourages restaurants and locals around the UK to clean up their area, and has been jointly organised with inSwindon BID Company Ltd.

The reward for their hard work was lunch at McDonalds – dining alongside the new Deputy Mayor and town cryer, Fred Ferris.

"It's always great watching children learn and seeing their understanding of the world develop," commented Paul Booth, chairman of inSwindon and McDonalds franchisee who operates six restaurants in the town.

"Becoming involved in a community project like 'Just Bin It' is a great way to encourage them to take pride in our town."

pupils from Nythe Primary School alongside
inSwindon's Street Team, inSwindon chief
executive Mark Ross and chairman Paul Booth

"We are delighted that the children of Nythe Primary School will be taking part in this event, which we see as educational and fun," said inSwindon chief executive Mark Ross.

"The reward in attending the day is that pupils will have fun, learn about the newly regenerated site at Wharf Green as well as get to view the new BBC large screen."

To continue the childrens good work from the day, LINPAC Environmental donated the school a Henrietta Hippo Bin.
Mel Turner-Wright