Date added: 27 May 2008
Hollyoaks and a management deal!
All in a day's work for Swindon's Beatbullyz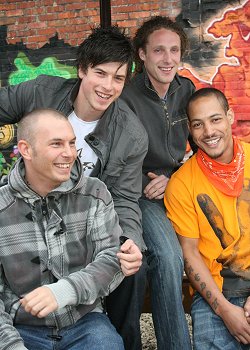 DJ
Philonious
Funk, singer Bully,
drummer Disco Stu, lyricist Bozo
Swindon band the Beatbullyz have been rocking the town's music scene for years - and now they are set to receive national recognition.
After winning a Channel 4 competition to appear on hit TV soap Hollyoaks, the boys will be seen by millions.
Drummer Disco Stu said: "It was mad. We entered the competition ages ago, but completely forgot about it!"
The episode goes live on Tuesday 24 June and will be repeated during an omnibus on Saturday 28 June - so don't miss it!
And the celebrations don't stop there for the talented foursome...
Sign on the dotted line...
SwindonWeb can exclusively reveal that the Beatbullyz have now signed a long-awaited management deal.
Danny Yeates of Ricochet Management, who has worked with big names such as Muse, The Strokes, The Kooks and Razorlight (to name a few) - is set to take the band to the mainstream market.
Frontman Bully told us: "We played a gig at a VIP party in a restaurant at the O2 Arena - Muse and the Gorillaz turned up, and Danny Yeates was there with Muse.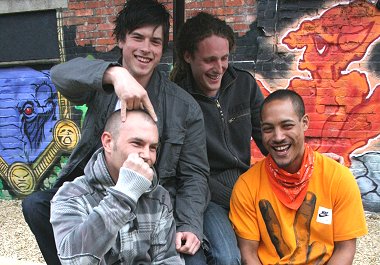 Signed, sealed, delivered!:
the Beatbullyz bagged themselves a management deal
after performing in front of Muse's management
"He basically loved what we were doing, so we had a meeting last week and signed up with him.
"It's hopefully a step in the right direction for us, so watch this space for Beatbullyz!"
With influences of The Roots, De La Soul, Madness, Goldie and Roni Size, this energetic fusion of hip-hop, funk and urban sounds is one definitely NOT to be missed.
Mel Turner-Wright
Local Hip-Hop Group To Split
Swindon group Beatbullyz have announced they are going to split up - click here for more information...

08 February 2012

Longs 20th Birthday
Old Town bar celebrates 20 years with action-packed weekender...

25 July 2008