Date added: 03 April 2008
Sports Round-Up 3 April 2008
Football - Swindon Town F.C.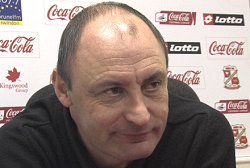 Maurice Malpas looking for three
points on Saturday against Oldham
Defiance was the mood emanating from the County Ground today in our weekly video interview with manager Maurice Malpas.
Following some recent criticism for the team's poor form, the boss was adamant the the team would continue to work hard to earn their next victory.
"I don't think the performances have been that bad, we have just been lacking that little bit of luck and we shoot ourselves in the foot at times," said Malpas.
The under-fire boss was also keen to stress that he would back his players no matter what.
"I will take all the stick that is levelled at the team as it's my job to keep the players focused on playing football, and not being worried about criticism," claimed Malpas.

But with Oldham visiting the County Ground on Saturday, three points are all that is on the manager's mind.

"To their credit the players have been fantastic in training so we are all confident of a positive result come Saturday afternoon," added Malpas.
With only six games of the season left, the manager is already planning for next season, and has the unenviable task of deciding on a number of players' futures.
"It's not a very nice job to do but it's part and parcel of being a football manager, and it is one that I know I will just have to get on and do," stated Malpas.
Football - Swindon Supermarine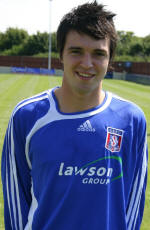 Supermarine's Southern League Premier Division status was guaranteed on Tuesday night with a solid but lacklustre draw against relegation-threatened Bedford Town.
Mark Collier had been left looking over his shoulder following Marines 5-0 thrashing at the hands of Gloucester City last Thursday, a game that the manager described as their "worst performance of the season without a doubt."
However, a spectacular goal from Ashley Edenborough against Bedford was enough to earn his side a share of the points.
Supermarine have four games of the season remaining, but still face a thrilling trip to local rivals Cirencester Town, who are languishing at the wrong end of the table.
Collier and his team no doubt looking to finish the season on a high and cap of a campaign that on reflection can only be seen as a success.
Ice Hockey - Swindon npower Wildcats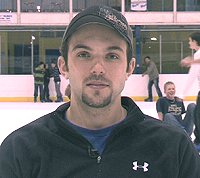 Joel Petkoff once again the
Wildcats' play-off dreams are still very much alive thanks to a late over-time goal from star forward Joel Petkoff.
Despite sitting bottom of Group B, the Cats are level on points with the two sides above them.
With the final two fixtures this weekend it is make or break for Pete Russell's men against group toppers Slough Jets.
The Cats' season rested on a knife edge following Saturday's comprehensive 6-1 drubbing at Milton Keynes.
However some gritty defensive play and Petkoff's spectacular over-time strike leaves them right in the mix for a spot at the season-ending Championship weekend.
Swindon will host Slough at the Link Centre on Saturday in potentially the biggest game of their season, with any sort of win giving them a fantastic chance of making it to Coventry in mid-April.
Speedway - Swindon Robins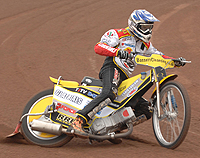 replacement rider Cory
Gathercole
Following last week's horror crash, Theo Pijper has been ruled out for the next few weeks.
Pijper suffered concussion, a broken collarbone and a dislocated thumb in the crash but has vowed to come back fitter and stronger in the not too distant future.
The Dutch ace will receive treatment from Swindon Town physio Kate Cady as he bids to regain his fitness.
His replacement will be reserve rider Cory Gathercole, who comes straight into the side for tonight's Elite League clash against Belle Vue at the Abbey Stadium.
Gathercole will be looking to impress in Pijper's absence as he bids to show his worth for a place in next year's Robins starting line-up.
The Aussie, who is a relative of team-mate Leigh Adams, currently rides for the Isle of Wight in the Premier League but wants to make the step-up to the Elite League as soon as possible.
The meeting also sees a mouth-watering clash between two of the best in the world as Leigh Adams and Jason Crump lock horns round the Blunsdon track.
Tapes are up at 7.30pm and tickets can be bought on the gate at the Abbey Stadium.