Date added: 06 April 2008
Snow way!
Swindon shivers as cold snap brings springtime snowfall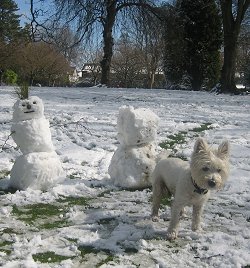 our Milo out in the Swindon snow
Swindon woke up to a white blanket of snow this morning - and weather forecasters reckon their could be more to come.
The sharp drop in temperatures overnight leading to the first snow flurries in the early hours, followed by bright morning sunshine - the ideal conditions for winter walks, snowman building and a spot of sledging.
One of the first out this morning being SwindonWeb's own snowy wonder - Milo, our west highland terrier.
Our wee white one blending in nicely with the background as he walked - and weed - amongst the snow in Town Gardens, the Lawn and Lydiard Park.
Here's our gallery - loads more pics to follow.

Snow in Swindon 2008 - 06/04/2008
Top dog!
SwindonWeb's Milo gets a pampering - see gallery!...