Date added: 21 April 2008
Liquid & Envy preview!
Special guests drop in to Swindon's hottest new club
It's the nightclub everyone's talking about - the new Liquid & Envy.
And with the official opening on Thursday, revellers from all across the town will be donning their dancing shoes and making their way to the former Brunel Rooms.
Set to be a huge night, the club has even attracted the 'Big Dog' himself - Radio 1 DJ Tim Westwood - to spin the decks.
So it came as a bit of a surprise yesterday when we were told that special guests Olive Woodward and Vera Wakefield would be dropping in to preview a bit of what the club has to offer.
We couldn't help but notice how far from hip-hop their names sounded.
And we were right.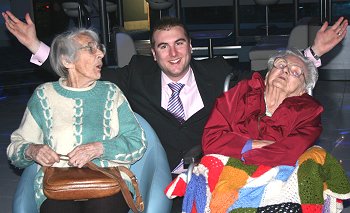 Olive (l) and Vera with general manager Jon Jackson
The pair - who were invited by general manager Jon Jackson - were there to celebrate their 101st birthdays.
Jon told us, "I couldn't believe it when I heard these two ladies had just turned 101 and still liked to party - so we thought we'd give them a special day to celebrate such an achievement.
"They didn't cut many shapes on the dancefloor, but it could've been nerves."
Mel Turner-Wright