Date added: 25 April 2008
Cab saves Cameron
Tory leader takes cover from Swindon heckler
Last week it was a snotty teenager - this week it's an irate Swindonian.
David Cameron receiving the full wrath of one disgruntled local during a visit by the Tory MP to the new Swindon library site today.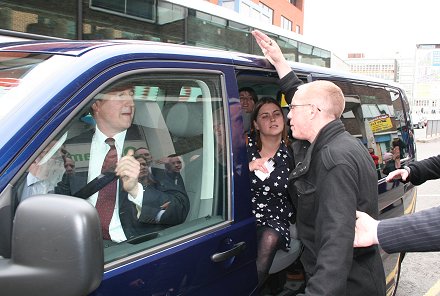 David Cameron belts up as a heckler - who blamed the MP for
the state of the homeless in Swindon - is prevented
The leader of the opposition taking evasive action by hot footing it in to his people carrier, just as the rowdy heckler made a lunge to join him in the front seat.
And Cameron's face said it all as he was sworn at and threatened by the scruffily dressed individual, who blamed the Tory leader for the problems faced by homeless people in Swindon.
"His behaviour was disgraceful," said one onlooker, clearly shocked by the bad language aimed at Cameron.
Antics that first started outside the Ambience Café, when the politician was interrupted by obscenities shouted at him whilst he was holding a conversation with a young mother and child.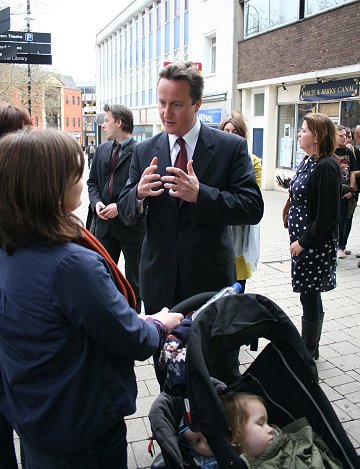 David Cameron talking in Regent Street today
Mr Cameron was in Swindon on a whistle stop tour of the West Country, which included visits to Cardiff and Cheltenham.
While here, he took time to meet Conservative prospective parliamentary candidates Justin Tomlinson and Robert Buckland, as well as local Tory candidates standing in the forthcoming May elections.
"He spoke very positively about what we're doing here in Swindon", said leader of Swindon Borough Council, Rod Bluh.
"He was particularly impressed with the new library project and the regeneration of the town centre."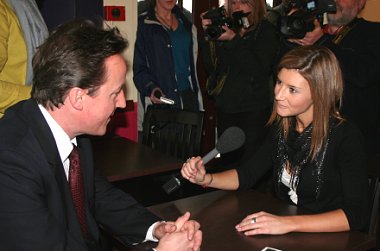 David Cameron interviewed by
Kirsty Heber-Smith for SwindonWebTV
Cameron, who last visited Swindon in April 2007 alongside Boris Johnson, also indicated that he'd be prepared to return and cut the ribbon for the library's grand opening this September.
Swindon Election 2015
Both Conservative MPs re-elected with increased majorities + ELECTION NIGHT LIVE

08 May 2015

Election Q&A
The Royal Oak Bishopstone hosts a Q&A with the party political candidates - 17 APRIL

No Time For Tapas
ONE MONTH TO GO: Miliband is back in Swindon - and this time it's at Los Gatos - SWTV GRAB A WORD

07 April 2015

Election Countdown
VIDEO: Harriet Harman's pink battle bus rolls in to town to support local Labour candidate's fight for Swindon children's centres - WATCH INTERVIEW

05 March 2015

Nick Clegg in Swindon
Deputy Prime Minister stops by to sign £129 million growth deal - WATCH VIDEO

18 December 2014

BoJo in Swindon
Boris Johnson joins local MPs at Nationwide (oh yes, Obama due in today!) - GALLERY

02 September 2014

Cheeky!
Opportune advertising raises a laugh at Bruce Street Bridges...

05 May 2010

Election Time 2010
Final day - still unsure? Take a final look at our guide to see videos, history and more...

Cameron in Swindon
Conservative leader chooses Coate pub garden to launch 'grey manifesto'...

18 April 2010

Andrew Lansley
Conservative shadow secretary of state for health visits Maple Court in Swindon...

14 April 2010

Theresa Villiers
Shadow secretary of state for transport visits MAN in Swindon...

07 April 2010

Order! Order!
Commons telling off for Swindon MP Anne Snelgrove...

18 March 2009

The direct approach
Conservative leader David Cameron answers questions in Swindon - watch video...

10 July 2008

What a Vic-Tory!
Conservatives increase majority on Swindon Borough Council...

02 May 2008