Date added: 30 April 2008
Let down and disappointed
Elderly sisters lose inheritance tax court battle
Some say the mark of a decent modern society is when we take proper care of the elderly.
Try telling that to Joyce and Sybil Burden of Ogbourne St. George near Swindon this morning.
Two elderly ladies who now face losing their family home of over 80 years after an EU ruling this week decided they will have to pay death duties when one of the sisters dies.
Facing a worrying future:
Joyce (l) and Sybil Burden
This tax will force the other to move from a house that has been in the family all their lives and is currently worth £900,000 - £225,000 of which will have to be paid to the Inland Revenue.
And after a 32-year appeal process, which has included the sisters writing to every chancellor of the exchequer since 1976, the harsh reality of the situation is starting to hit home.
"If we were lesbians we would have all the rights in the world. But we are sisters, and it seems we have no rights at all," a disappointed Joyce Burden commented through her solicitor, Swindon-based Thring Townsend Lee & Pembertons.
"We are still struggling to understand why two single sisters in their old age, whose only crime was to choose to stay single and look after their parents and two aunts to the end should find themselves in such a position in the United Kingdom in the 21st century.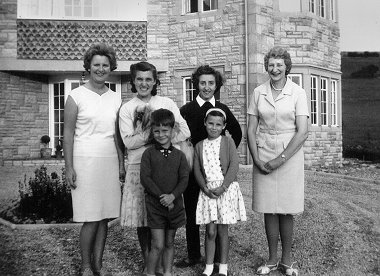 Memories of the family home:
Sybil (second left) and sister Joyce (third left)
"Our brothers fought in the Second World War, and our sister was a nurse throughout the Blitz.
"We do not believe that this is the sort of freedom and democracy that they envisaged when they put their lives on the line for their country."
"This is a day we hoped that we, as British citizens, would never see." Joyce and Sybil are said today to be too upset to comment further.
Under UK and European law, they have no further avenue to appeal.
Mel Turner-Wright